At times it is convenient to draw a frequency bar plot; at times we prefer not the bare frequencies but the proportions or the percentages per category. There are lots of ways doing so; let's look at some ggplot2 ways.
First, let's load some data.
data

(

tips

,

 

package

 

=

 

"reshape2"

)



And the typical libraries.
library

(

dplyr

)




library

(

ggplot2

)




library

(

tidyr

)




library

(

scales

)

  

# for percentage scales



Way 1
tips

 

%>%

 
  

count

(

day

)

 

%>%

 
  

mutate

(

perc

 

=

 

n

 

/

 

nrow

(

tips

))

 

->

 

tips2





ggplot

(

tips2

,

 

aes

(

x

 

=

 

day

,

 

y

 

=

 

perc

))

 

+

 

geom_bar

(

stat

 

=

 

"identity"

)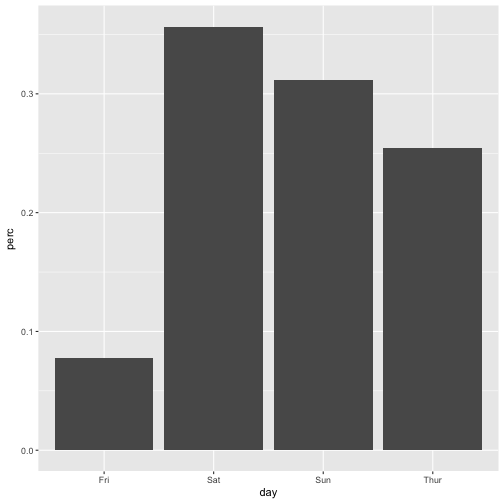 Way 2
ggplot

(

tips

,

 

aes

(

x

 

=

 

day

))

 

+

  
  

geom_bar

(

aes

(

y

 

=

 

(

..count..

)

/

sum

(

..count..

)))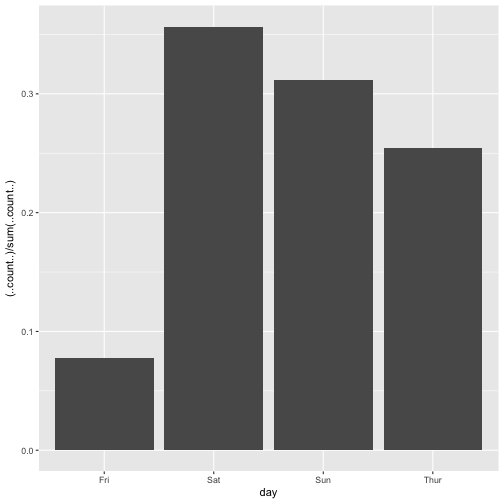 Way 3
myplot

 

<-

 

ggplot

(

tips

,

 

aes

(

day

))

 

+

 
          

geom_bar

(

aes

(

y

 

=

 

(

..count..

)

/

sum

(

..count..

)))

 

+

 
          

scale_y_continuous

(

labels

=

scales

::

percent

)

 

+


  

ylab

(

"relative frequencies"

)





myplot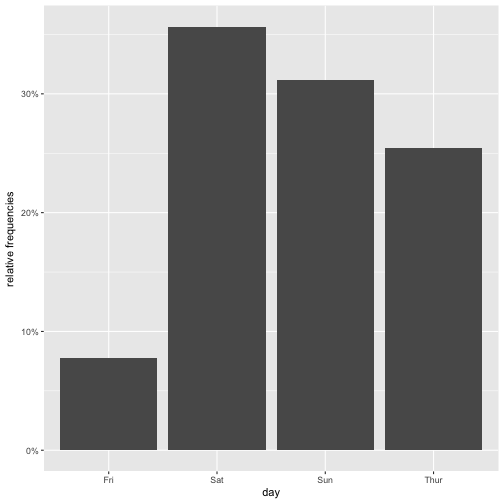 Way 4
myplot

 

<-

 

ggplot

(

tips

,

 

aes

(

day

,

 

group

 

=

 

sex

))

 

+

 
          

geom_bar

(

aes

(

y

 

=

 

..prop..

,

 

fill

 

=

 

factor

(

..x..

)),

 

stat

=

"count"

)

 

+

 
          

scale_y_continuous

(

labels

=

scales

::

percent

)

 

+


          

ylab

(

"relative frequencies"

)

 

+


          

facet_grid

(

~

sex

)





myplot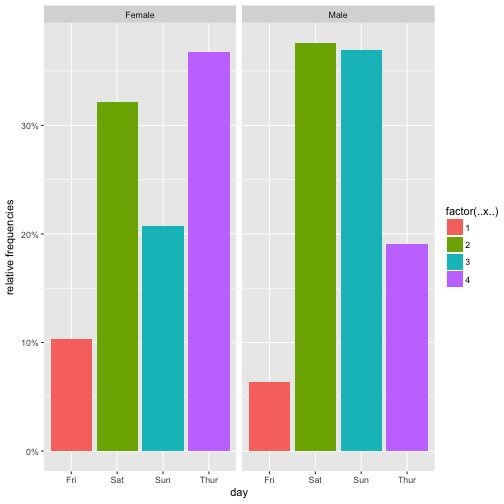 Way 5
ggplot

(

tips

,

 

aes

(

x

=

 

day

,

  

group

=

sex

))

 

+

 
    

geom_bar

(

aes

(

y

 

=

 

..prop..

,

 

fill

 

=

 

factor

(

..x..

)),

 

stat

=

"count"

)

 

+


    

geom_text

(

aes

(

 

label

 

=

 

scales

::

percent

(

..prop..

),


                   

y

=

 

..prop..

 

),

 

stat

=

 

"count"

,

 

vjust

 

=

 

-.5

)

 

+


    

labs

(

y

 

=

 

"Percent"

,

 

fill

=

"day"

)

 

+


    

facet_grid

(

~

sex

)

 

+


    

scale_y_continuous

(

labels

 

=

 

scales

::

percent

)